My Perfect Chocolate Chip Cookies
I found an amazing Web site devoted to baking chocolate chip cookies, not just any chocolate chip cookies, but the BEST chocolate chip cookies. I have made them 3 different times, including an occasion where I have made a large cookie cake so I can attest to them being soft and oozing with chocolate in the middle, a little crispy around the edges, and scrumptious. Just be careful that you only eat 1 or 2 as your cheat because it calls for shortening which has 100% fat content compared to 80% in butter. (source)
Problem Cookies: A Detailed Analysis
Clicking on the image below will take you directly to the site for details on what the problem is with each cookie.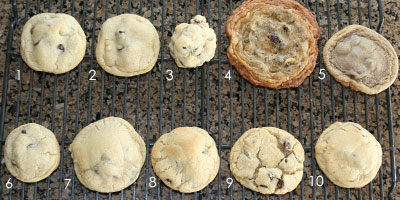 Ashley and Sierra from the site are masters of detail and deconstruct the making of the perfect cookie. Their research, and trial and error in the cookie creation process is a science . The secret is to not over-mix the dry ingredients and wet ingredients when you combine them. This means that even the chocolate chips are added to the wet batter before the dry ingredients to minimize more mixing. I was so careful and aware of this idea that I added the dry ingredients slowly while lightly mixing it into the wet ingredients to get a fluffy dough. I found that you need a steady hand and be as gentle as possible when using your spatula to turn and fold the ingredients together as they combine and make a dough. I encourage you to click on the Web site and follow the directions to make your perfect chocolate chip cookies and see for yourself how perfect they really are with the right balance of flavour and texture. The Web site is incredibly detailed and comprehensive with theory and instructions accompanied by images.
Here are the ingredients you need.
Combine ingredients to make a wet mixture.
Before you start, make sure you use a large mixing bowl for the wet mixture because the dry ingredients will be transferred to this bowl. It's all about the mixing so when the ingredients are combined, remember to use a steady hand to mix lightly and gently.
Dry ingredients: mix well now so that you don't need additional mixing later.

Combine dry ingredients into the wet mixture to form a soft dough.
The first time I made this I did not
make chocolate chip cookies. I added unsweetened coconut (yes, I love coconut so much, I put it many of the recipes that I post), butterscotch chips, and used half the butter and omitted the shortening completely, so it was a different kind of perfect cookie but still was deliciously scrumptious.
                                                        To you, from me, with love.